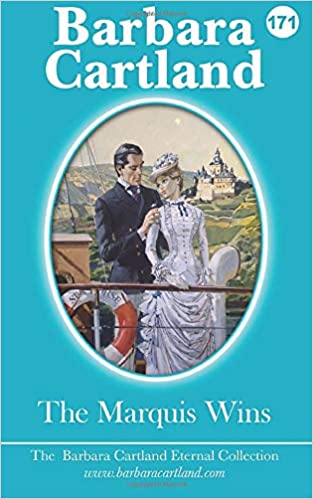 The Marquis Wins By Barbara Cartland
The Marquis Wins: Volume 71 (The Barbara Cartland Eternal Collection) Book by Barbara Cartland. 'Stop this marriage!' As the Comte turned to see who had spoken, Daniela knew with a leap in her heart that the Marquis was there.
For demure young and beautiful Daniela Brooke, it had been bad enough to find out that her much-loved late father, Lord Seabrooke, had been tricked into marriage by the use of drugs by a disreputable Parisian courtesan called Esmé Blanc. It was even worse to discover just four weeks after her father's death that her scheming stepmother is trying to arrange a marriage in the German spa resort of Baden-Baden between Daniela and her penniless lover for her own nefarious and greedy purposes, as Lord Seabrooke has left all his money and estates to Daniela and most definitely not to Esmé Blanc.
Although guarded by day and night by her stepmother, in desperation Daniela manages to meet the Marquis of Crowle secretly in the garden of the Baden-Baden casino and begs him to help her escape as soon as possible from her perilous predicament. Overcome with sympathy at her story, the Marquis arranges to whisk her away from the Church at the very last minute before she is married and they sail off back to England in his magnificent yacht, The Sea Horse, down the River Rhine to freedom with Daniela's wicked stepmother in hot pursuit. Will the distraught Daniela find the freedom she yearns for from her grasping stepmother? And even then can it be possible that she will ever find the sublime love that she has always dreamed about?