Advanced Organic Chemistry Structure and Mechanisms by Ashutosh Kar :: The fundamentals of Organic Chemistry may be understood in a comprehensive manner only through three important channels that would ultimately open up the scope of this branch of chemistry into a leading subject of choice, creativity, and versatility amongst the students, researchers and scientists alike. First, it would be mandatory for one to get adequately familiarized with the physical and chemical properties of the Organic Chemical Entities (compounds). Secondly, one would understand critically their reactivities together with their inherent options and/or intricacies of various range of reactions. Thirdly, it would be an absolute must to develop the enormous ability to Design Synthesis in a big way with knowledge, wisdom, skill, intellect, perseverance and above all the dogged determination.The students of present generation opting to study chemistry do often experience a significant drawback perhaps caused by an overwhelming growth and advancements taken place in all the sciences that are accompanied specifically by the students of Organic Chemistry to muster, learn and adapt to a relatively huge number of reactions that was never a situation previously. A survey of literature would certainly ascertain the underlying fact that older concepts, ideas and knowledge are being transformed rapidly by: Modern methodologies, theories, innovation of ideas/thoughts, newer scientific observations and a virtual war on revolution in the advancement in the domain of Organic Chemistry. It essentially comprises: Orbital Theories, Wave Mechanics,
Combinatorial Chemistry, Chiral Chemistry, 3D-NMR Techniques, FTIR-Spectroscopy, X-Ray Diffraction (XRD) Analysis, Optical Rotary Dispersion (ORD) Studies, HPLC-Analysis, LC-MS/ GC-MS/IR-MS Hyphenated Methods, CADD-Methods, and the like, which have rendered the Organic Chemistry into an obvious 'World of Science' itself. The textbook on Advanced Organic Chemistry has been written integrity, passion and a mission to make it into a student-friendly campanion for the M.Sc, B.Sc. (Hons.), and Research Scholars pursuing for Ph.D. programmes. For the benefit of brilliant students in the Indian Universities and abroad as well—the entire textual matter has been arranged meticulously into Twenty-Five Chapters contained in Five Sections
(1, 2, 3, 4 and 5)—as stated under:
Part A : Fundamentals of Organic Chemistry [Chapters 1 to 3];
Part B : Name Reactions Based on Product Formed [Chapter 4 to 11];
Part C : Rearrangements : Classifications and Mechanisms [Chapters 12 to 19];
Part D : Organic Reactions and Mechanisms [Chapters 20 to 24], and
Part E : Some Novel Reactions in Organosilicon Chemistry [Chapter 25].
The esteemed readers will be benefited grossly with vital divergent aspects of Advanced Organic Chemistry with particular reference to such critical areas of interest as given below:
• Atomic Bonding • Stereochemistry • Reaction Intermediates • Factors Governing Reactivity
Profile • Rearrangements in Organic Chemistry Related to : Electron Deficient Heteroatoms—Acyl Carbenes—Induced by Electron-rich sites—Addition-Elimination Mechanism—Pericyclic Reactions— Aromatic Rearrangements—Scope and Mechanism of Substitution Reactions—Addition Reactions— Elimination Reactions; and Novel Reactions in Organosilicon Chemistry. Special attention has also been paid to all the aspects of synthetic processes included in the text matter. It is believed earnestly that the present compendium would certainly prove to be an asset and a reliable source of authentic information(s) not only to the students but also to the valued teachers dealing with the subject.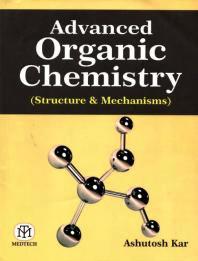 Advanced Organic Chemistry Structure and Mechanisms by Ashutosh Kar
| | |
| --- | --- |
| Title: | Advanced Organic Chemistry Structure & Mechanisms |
| Editor: | Ashutosh Kar |
| Edition: | 1st |
| Publisher: | Scientific International Pvt. Ltd. (siplind) |
| Length: | 790 pages |
| Size: | 138 MB |
| Language: | English |
Advanced Organic Chemistry Structure & Mechanisms
Author(s): Kar, Ashutosh
Publisher: Scientific International, Year: 2017
ISBN: 9789387025202,9387025209