Business Models For Dummies by Jim Muehlhausen
Book Details :
Language
English
Pages
387
Format
PDF
Size
29.5 MB
Business Models For Dummies by Jim Muehlhausen, JD | PDF Free Download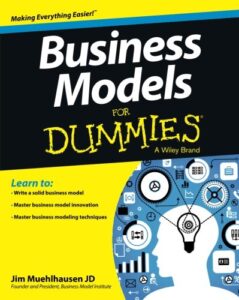 Author of Business Models For Dummies eBook
---
Like most entrepreneurs, Jim Muehlhausen has an eclectic background, ranging from CPA to franchisee, attorney, business owner, consultant, franchisor, public speaker, university professor, and book author.
While still attending the Indiana University School of Law, he became the youngest franchisee in Meineke Discount Muffler history (1987–1991).
After successfully selling that business, Jim founded an automotive aftermarket manufacturing concern. During his nine-year tenure with that business, the company achieved recognition from Michael Porter of the Harvard Business School and Inc.
Magazine in the IC 100 Fastest-Growing Businesses. Fifteen years ago, he found his true passion, serving as a consultant, business coach, and advisor to hundreds of businesses.
During his 5,000+ one-on-one consulting sessions with business owners around the globe, Jim realized that while all business issues look unique, they rarely are. Most businesses are working to seize the same opportunities and overcome the same obstacles.
To help business owners share best practices and stop learning from the "School of Hard Knocks," he wrote the well-regarded book The 51 Fatal Business Errors and How to Avoid Them (Mulekick Publishing). H
is ongoing research led to the discovery of fatal business error #52: You can't outsmart, outhustle, or outmaneuver a weak business model.
The more he studied business models and worked with business owners, the more convinced he became that business models were the key to a great business. In 2009, he founded the Business Model Institute, which is devoted to the innovation and study of business models.
Jim writes several articles for the Institute each year as well as contributing to publications such as Inc.,
The Small Business Report, Entrepreneur, BusinessWeek, and various business journals. He also speaks to associations, groups of business owners, and corporations about the business model assessment and innovation
Business Models Contents
---
Part I: Getting Started with Business Models
Chapter 1: What Is a Business Model and Why Does It Matter?

Chapter 2: Business Models Defined

Chapter 3: Business Models Come in Many Different Forms

Chapter 4: Your Business Success Depends Upon Your Business Model
Part II: Creating a Winning Business Model
Chapter 5: Using Tools to Design Your Business Model

Chapter 6: Finding the Most Attractive Markets to Create a Powerful Offering

Chapter 7: Completing Your Offering with a Unique Value Proposition

Chapter 8: Making Money with Your Business Model 

Chapter 9: Monetization through Sales Performance

Chapter 10: Making Your Business Model Last 

Chapter 11: Sustaining Your Business Model: Innovating and Avoiding Pitfalls

Chapter 12: Cashing In

Chapter 13: Analyzing Your Business Model
Part III: Dealing with Change
Chapter 14: Knowing that All Business Models Erode

Chapter 15: Looking for Signs that Your Business Model Is Weakening

Chapter 16: Detecting Hidden Problems and Adapting before It's Too Late
Part IV: Business Model Innovation
Chapter 17: Figuring Out Where to Begin the Innovation Process

Chapter 18: Starting the Innovation Process

Chapter 19: Using Disruptive Innovation

Chapter 20: Crowdsourcing as Advanced Business Model Innovation 

Chapter 21: Utilizing Virtualized Sales Processes 

Chapter 22: Profiting from the Dynamics of Insurance
Part V: The Part of Tens
Chapter 23: Ten Terrific Business Models

Chapter 24: Ten Signs You May Have an Issue with Your Business Model

Chapter 25: Applying Ten Sources of Business Model Innovation

Chapter 26: Ten Things a Venture Capitalist Never Wants to Hear
Introduction to Business Models For Dummies PDF
---
I've enjoyed the privilege of working with hundreds of business leaders, from both big and small companies, on an intimate level. These business leaders have shared their hopes and dreams, successes and failures, and the inner workings of their businesses with me.
Through the course of these interactions, I came to discover there wasn't necessarily a correlation between education, intelligence, or hard work and the success of the businesses.
I found many successful business owners who were quite lazy. I found high school dropouts who created highly successful businesses.
I also found intelligent, well-educated, and hard-working business leaders who failed to translate these qualities into business success.
I asked myself, "If these traits aren't the foundation of business success, what is?" The answer is the business model. Education, intelligence, and hard work are all applied to a business model.
Applying these qualities to a weak or failing business model is like throwing good money after bad in the stock market. After the realization that the strength of the business model is at the core of a business's success, I began to focus on this vital area.
After years spent collecting real-world case studies, I created both a business model framework and a business model evaluation tool.
I share both of these items with you in this book. By the end of this book, I hope you'll agree that I have demonstrated the importance of your business model as well as provided you with the necessary tools to create and innovate the best business model possible.
About Business Models For Dummies eBook
The purpose of Business Models For Dummies is to demonstrate the importance of a business model, show you how to create a structured business model, recognize when it needs a tune-up, and innovate your model via proven methods.
At this point, it may seem like an overwhelming task. Don't worry. By the end of this book, you'll have a variety of tools to assist you in constructing or redesigning a business model.
My goal for this book is to add the concept of business models into the strategic discussions of all businesses. To me, the business model is at the core of profitability and should be at the core of strategic planning discussions and business plan documents.
I hope the conversations and tools provided in this book give you the opportunity to do just that. Much of the mystery surrounding business models is due to the lack of discussion surrounding business models.
This book aims to increase the body of work in the area of business models, adding structure and process, so that businesspeople can better understand the role of the business model. This book should be used as a reference.
You don't need to read the chapters in order from front cover to back, and you aren't expected to remember everything. The book is created in module format, so you can read only one chapter or jump from chapter to chapter.
Download Business Models For Dummies by Jim Muehlhausen in PDF Format For Free.
Business Models For Dummies PDF
Author(s): Jim Muehlhausen
Publisher: For Dummies, Year: 2013
ISBN: 1118547616,9781118547618