Ecología 6a Ed. – T. Smith, R. Smith (Pearson, 2007)
 Book Description:
En esta nueva edición se han introducido numerosos cambios. Además de actualizar muchos ejemplos y temas para reflejar los resultados de las investigaciones recientes en el campo de la ecología, se han llevado a cabo modificaciones en la organización y contenido del texto.
Una característica fundamental de este texto es el enfoque en la aplicación de la ciencia de la ecología a los aspectos ambientales actuales, proporcionando a los estudiantes una comprensión de primera mano de la importancia de la ecología en la relación entre la población humana y el entorno natural.
La sexta edición incluye muchas nuevas características. Cada una de las nueve partes en que se divide el libro empieza con introducción de dos páginas. El objetivo de esta sección es doble: fijar el marco de los capítulos que vienen a continuación y enlazar los distintos niveles a los que los ecologistas ven y estudian los sistemas naturales.
Ecology, 6th Edition – Thomas M. Smith and Robert Leo Smith
The first edition of Ecology appeared in 1976 as a shortened version of Ecology and Field Biology. Since then, Ecology has evolved into a textbook intended for use in a semester-long introductory ecology course. Although intended primarily for students of biological sciences, in writing this text we are guided by the conviction that ecology must be part of a humanistic education. We believe that students who study disciplines as diverse as economics, sociology, engineering, political science, law, history, philology, languages, and the like should have a basic understanding of ecology for the simple reason that it affects everyone's life.
Structure and content
The sixth part explores the theme of ecological communities. This exposition builds on the themes covered in parts Three through Fifth to examine factors influencing species distribution and abundance through environmental gradients, both spatial and temporal.
The objective of the manual you are holding is to emphasize the continuing importance of the science of ecology as a guide to human relationships with nature. The sixth edition has been reorganized and updated to reflect the latest research and results in this field. The structure and content of this text are guided by two important factors: the organism as a fundamental unit in the study of ecology and the series of adaptations that allow the organism to survive, grow and reproduce under a set of environmental conditions. Thus, throughout the book a range of topics is explored based on current research in various fields of ecology and offering examples that allow the reader to develop an understanding of the natural history of species.
Table of contents :
Ecología
Contenido
Primera parte Introducción y antecedentes
Capítulo 1 Naturaleza de la ecología
Capítulo 2 Adaptación y evolución
Segunda parte Ambiente físico
Capítulo 3 Clima
Capítulo 4 Ambiente acuático
Capítulo 5 Ambiente terrestre
Tercera parte El organismo y su ambiente
Capítulo 6 Adaptaciones vegetales al medio ambiente
Capítulo 7 Adaptaciones animales al medio ambiente
Capítulo 8 Patrones de ciclos vitales
Cuarta parte Poblaciones
Capítulo 9 Propiedades de las poblaciones
Capítulo 10 Crecimiento poblacional
Capítulo 11 Regulación intraespecífica de la población
Capítulo 12 Metapoblaciones
Quinta parte Interacciones entre especies
Capítulo 13 Competencia interespecífica
Capítulo 14 Depredación
Capítulo 15 Parasitismo y mutualismo
Sexta parte Ecología de comunidades
Capítulo 16 Estructura de las comunidades
Capítulo 17 Factores que influyen en la estructura de las comunidades
Capítulo 18 Dinámica de las comunidades
Capítulo 19 Ecología del paisaje Séptima parte Ecología del sistema
Capítulo 20 Energética del ecosistema
Capítulo 21 Descomposición y circulación de nutrientes
Capítulo 22 Ciclos biogeoquímicos Octava parte Ecología biogeográfica
Capítulo 23 Ecosistemas terrestres
Capítulo 24 Ecosistemas acuáticos
Capítulo 25 Transiciones tierra-agua
Capítulo 26 Patrones a gran escala de diversidad biológica Novena parte Ecología humana
Capítulo 27 Crecimiento poblacional, uso de recursos y sostenibilidad
Capítulo 28 Pérdida del hábitat, biodiversidad y conservación
Capítulo 29 Cambio Climático global
Referencias
Glosario
Índice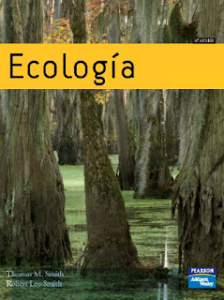 ECOLOGÍA
Author(s): Thomas M. Smith, Robert Leo Smith
Publisher: Pearson Educación, Year: 2008
ISBN: 8478290842,9788478290840