Organic Chemistry, 11th Edition by Francis Carey and Robert M. Giuliano :: Overview: The power of X-ray crystallographic analysis was cited in Dorothy Crowfoot Hodgkin's 1964 Chemistry Nobel Prize Lecture:
A GREAT ADVANTAGE OF X-RAY ANALYSIS AS A METHOD OF CHEMICAL STRUCTURE ANALYSIS IS ITS POWER TO SHOW SOME TOTALLY UNEXPECTED AND SURPRISING STRUCTURE WITH, AT THE SAME TIME, COMPLETE CERTAINTY.
From Linus Pauling's 1954 Nobel Prize for research on the chemical bond, to Dorothy Crowfoot Hodgkin's in 1964 for solving the structure of vitamin B12 and other biochemical substances, to Robert Lefkowitz and Brian Kobilka's in 2012 for solving the structure of G protein-coupled receptors, chemists of all persuasions have shared a common interest in the structure of molecules. It is this common interest in structure that has guided the shaping of this edition. Its most significant change is the relocation of chirality, previously a Chapter 7 topic, to Chapter 4 where it now is closer to the other fundamental structural
concepts such as molecular shape, constitution, and conformation. A broader background in structure, acquired earlier in this new presentation, is designed to provide students the conceptual tools they need to understand and apply the relationship between the structures of organic compounds and their properties.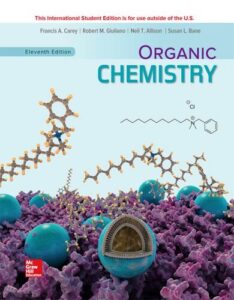 Organic Chemistry, 11th Edition by Francis Carey and Robert M. Giuliano
Title:

Organic Chemistry, 11th Edition

Editor:

Francis Carey
Robert M. Giuliano

Edition:

10th, Revised, Illustrated

Publisher:

McGraw Hill Education

Length:

1248 pages

Size:

96.6 MB

Language:

English
BOOK CONTENTS
Structure Determines Properties
Alkanes and Cycloalkanes: Introduction to Hydrocarbons
Alkanes and Cycloalkanes: Conformations and cis–trans Stereoisomers
Chirality
Alcohols and Alkyl Halides: Introduction to Reaction Mechanisms
Nucleophilic Substitution
Structure and Preparation of Alkenes: Elimination Reactions
Addition Reactions of Alkenes
Alkynes
Introduction to Free Radicals
Conjugation in Alkadienes and Allylic Systems
Arenes and Aromaticity
Electrophilic and Nucleophilic Aromatic Substitution
Spectroscopy
Organometallic Compounds
Alcohols, Diols, and Thiols
Ethers, Epoxides, and Sulfides
Aldehydes and Ketones: Nucleophilic Addition to the Carbonyl Group
Carboxylic Acids
Carboxylic Acid Derivatives: Nucleophilic Acyl Substitution
Enols and Enolates
Amines
Phenols
Carbohydrates
Lipids
Amino Acids, Peptides, and Proteins
Nucleosides, Nucleotides, and Nucleic Acids
Synthetic Polymers
Organic Chemistry, 11th Edition
Author(s): Francis A. Carey, Robert M. Giuliano, Neil T. Allison, Susan L. Bane
Publisher: McGraw-Hill Education, Year: 2019
ISBN: 1260565874,9781260565874