Speed Reading For Dummies by Richard Sutz
Book Details :
Language
English
Pages
291
Format
PDF
Size
2.33 MB
Speed Reading For Dummies by Richard Sutz With Peter Weverka | PDF Free Download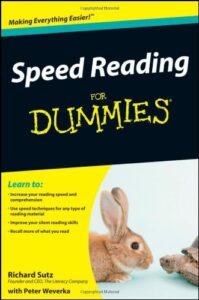 Authors of Speed Reading For Dummies PDF
---
Richard Sutz is the founder of The Literacy Company. The company's software, The Reader's Edge, is the result of more than $3 million of research and development.
Richard began his involvement in speed reading more than 30 years ago as a consultant to and a personal friend of Evelyn Wood, the speed-reading pioneer.
His background and experience span executive roles in both the private and public sectors. Richard was Grumman Aircraft's Assistant Director for Europe and the Middle East.
In the late 1970s, he was appointed Deputy Director of the Arizona Energy Office and later joined the U.S. Department of Energy as director of the Energy-Related Inventions Program.
Peter Weverka is the author of many For Dummies books, including Office 2007 All-in-One Desk Reference For Dummies. His articles and stories have appeared in Harper's, SPY, and other magazines.
Speed Reading Contents
---
Part I: Introducing Speed Reading
Chapter 1: Of Course You Can Speed Read!

Chapter 2: It's All about Breaking Bad Reading Habits 

Chapter 3: Understanding the Mechanics of Speed Reading

Chapter 4: Introducing Speed-Reading Fundamentals
Part II: Focusing on the Fundamentals
Chapter 5: Establishing Your Reading Rate

Chapter 6: Taking in More than One Word at a Time: Reading in Clumps

Chapter 7: Getting the Gist from Word Groups
Part III: Advancing Your Speed-Reading Skills
Chapter 8: Building Your Speed-Reading Momentum 

Chapter 9: Exercising Your Ability to Read More in Even Less Time 

Chapter 10: Other Reading Strategies to Supplement Your Speed Reading 

Chapter 11: Taking Advantage of Writing Structure to Read More Quickly
Part IV: Improving Your Comprehension
Chapter 12: Expanding Your Vocabulary to Become a Better Speed Reader 

Chapter 13: Applying Speed Reading to Various Reading Tasks
Part V: The Part of Tens
Chapter 14: Ten Quick Techniques to Improve Your Reading Speed 

Chapter 15: Ten Exercises for Keeping Your Eyes Speed-Reading Ready 

Chapter 16: Ten Tips for Making Your Speed-Reading Skills Permanent
Part VI: Appendixes
Appendix A: Uncovering the Prime Words 

Appendix B: Your Speed-Reading Progress Worksheet
Introduction to Speed Reading For Dummies eBook
No matter how quickly or slowly you read now, you can read much more rapidly by adopting the speed-reading techniques described in this book. You can also comprehend, retain, and recall what you read much more successfully.
You can become an efficient and effective reader, one who reads with confidence and greater understanding. You can read more in the time you devote to reading and get more from the articles and books you read.
This book represents all that I know and have discovered about speed reading during my 40 years as a speed-reading instructor and developer of speed-reading software.
I have had the great pleasure of seeing my students' reading speeds and comprehension improve dramatically, and I have also seen them derive greater pleasure from reading. These goals increasing your reading speed and your pleasure from reading are what this book is all about.
About Speed Reading For Dummies eBook
The science (some would say art) of speed reading is about 100 years old. Consequently, theories abound as to what makes a good speed reader and how to become a speed reader.
This book takes a very basic approach to the subject I believe speed reading is efficient reading. You don't have to be a wizard or master arcane techniques to be a speed reader.
All you have to do is understand the mechanics of reading and then apply yourself more efficiently to exercising those mechanics when you read.
This book shows you how to do that. Speed Reading For Dummies is for people who have little or no background in speed reading, as well as for experienced speed readers who want to hone their speed-reading skills.
It offers many strategies, tips, and tricks to improve your reading speed and includes numerous exercises to give you hands-on practice in speed-reading techniques.
It also explains the how and why of speed-reading mechanics so that you understand not just what to do when you speed read but also why you do it.
A note about the exercises: If at first, you don't succeed, try again. Everyone grasps new material at a different rate don't get discouraged if you don't do as well as you expect the first time out of the gate.
You can apply these exercises to just about any reading material to get additional practice; as I mention elsewhere in this book, newspapers are perfect for speed-reading practice, so consider starting there. You don't have to read this book from start to finish unless you want to, of course.
I wrote and organized Speed Reading For Dummies so that you can start reading it anywhere you want. Consult the table of contents or "How This Book Is Organized" later in this introduction to find the speed-reading topic that interests you.
Download Speed Reading For Dummies by Richard Sutz in PDF Format For Free.
The fun and easy way to become a more efficient, effective reader!
Want to read faster — and recall more of what you read? This practical, hands-on guide gives you the techniques you need to increase your reading speed and retention, whether you're reading books, e-mails, magazines, or even technical journals! You'll find reading aids and plenty of exercises to help you read faster and better comprehend the text.
Yes, you can speed read — discover the skills you need to read quickly and effectively, break your bad reading habits, and take in more text at a glance
Focus on the fundamentals — widen your vision span and see how to increase your comprehension, retention, and recall
Advance your speed-reading skills — read blocks of text, heighten your concentration, and follow an author's thought patterns
Zero in on key points — skim, scan, and preread to quickly locate the information you want
Expand your vocabulary — recognize the most common words and phrases to help you move through the text more quickly
Open the book and find:
Tried-and-true techniques from The Reader's Edge program
How to assess your current reading level
Tools and exercises to improve your reading skills
Speed-reading fundamentals you must know
Helpful lists of prefixes, suffixes, roots, and prime words
A speed-reading progress worksheet
Exercises for eye health and expanded reading vision
Tips for making your speed-reading skills permanent
Speed Reading For Dummies
Author(s): Richard Sutz, Peter Weverka
Publisher: For Dummies, Year: 2009
ISBN: 0470457449,978-0-470-45744-3