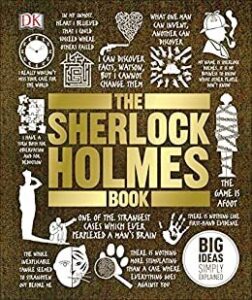 The Sherlock Holmes Book: Big Ideas Simply Explained By DK
From the very first novel A Study in Scarlet, through to the masterpiece that is The Hound of the Baskervilles and the detective's last story, The Adventure of Shoscombe Old Place, this fascinating book explores every facet of Sir Arthur Conan Doyle's most memorable creation.
Discover how Holmes reaches his conclusions through deductive reasoning, plus in-depth biographies of key characters, from Holmes and Watson themselves to Inspector Lestrade, Mrs Hudson, and the detective's arch-enemy Professor Moriarty. Packed with stunning infographics, memorable quotations and stimulating illustrations, The Sherlock Holmes Book holds up a magnifying glass to the entire canon, and offers superb insight into Holmes's legacy and influence on generations of detective fiction writers.
The Sherlock Holmes Book
Author(s): DK
Series: Big Ideas Simply Explained
Publisher: DK, Year: 2015
ISBN: 9780241205914