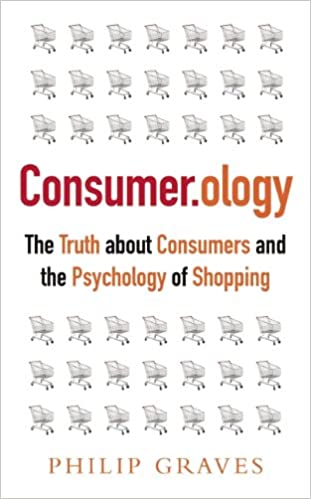 Consumerology: The Truth about Consumers and the Psychology of Shopping By Philip Graves
Market research is a myth. Philip Graves, one of the world's leading experts in consumer behavior, reveals why the findings obtained from most market research are completely unreliable. Whether it is company executives seeking to define their corporate strategy or politicians wanting to understand the electorate, the idea that questions answered on a questionnaire or discussed in a focus group can provide useful insights on which to base business decisions is the cause of product failures, political blunders and wasted billions. "Consumerology" exposes some of the most expensive examples of research-driven thinking clouding judgment, experience, and evidence – from New Coke to General Motors, Mattel to the Millennium Dome – and instances of success through ignoring market research, such as Baileys and Dr. Who. It also shows organizations the tools they should use if they want to understand their customers.
Using his unique AFECT approach, a set of five criteria to evaluate the reliability of any consumer insight, Graves asserts that it's time for a fresh approach that embraces this new understanding of human behavior. Along the way, he reveals why the current practice of market research is false science, why we often don't buy what we say we will, and how to understand consumers better than they do themselves. After reading "Consumerology," business leaders and politicians will never look at market research in the same way again.
Book Name: Consumerology: The Truth about Consumers and the Psychology of Shopping
Book Author: Philip Graves
Book Review: This book is an informative read for consumers who want to know more about the psychology of shopping. It explores why people buy certain products, how they shop for them, and what influences their buying decisions. This book is not just for those who are interested in marketing or business but also anyone who wants to learn more about themselves and their shopping habits.
Table of contents :
Contents……Page 6
Foreword by Kevin Hogan……Page 8
Overture: The Moment of Truth……Page 10
1: Understanding the Unconscious Mind……Page 18
2: Reading Consumers……Page 42
3: The Consumer in Context……Page 62
4: What Consumers Do……Page 78
5: The Irrelevant Consumer……Page 100
6: Relevant Answers……Page 136
7: Understanding the Crowd……Page 152
8: Consumer Futurology……Page 176
9: Gaining an Edge……Page 190
Epilogue……Page 207
Notes……Page 210
Index……Page 220
Acknowledgments……Page 224
Consumerology: The Market Research Myth, the Truth About Consumers, and the Psychology of Shopping
Author(s): Philip Graves
Publisher: Nicholas Brealey Publishing, Year: 2010
ISBN: 1857885503