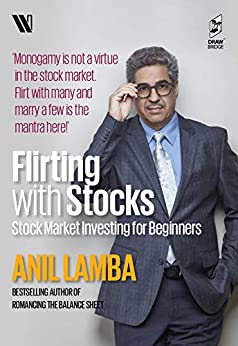 Flirting with Stocks By Anil Lamba
Flirting with Stocks: Stock Market Investing for Beginners is a investing book by Anil Lamba.
Flirting with Stocks introduces the uninitiated to the world of share markets. Acclaimed financial expert Dr Anil Lamba begins with the basics of how the investment cycle works, and builds up to the nitty-gritties of bulls and bears, mutual funds, kerb trading, badla finance and share-price fixing. Included also are case studies on asset bubbles and insider trading that are lessons for potential investors on how to make money while minimising risks.
Written in Dr Lamba's characteristic lucid style, this book makes stock market investing a non-intimidating, fun activity.
Flirting with Stocks: Stock Market Investing for Beginners
Author(s): Lamba, Anil
Publisher: Westland, Year: 2018
ISBN: 9789387578661
ePUB