Joan Garry's Guide to Nonprofit Leadership Pdf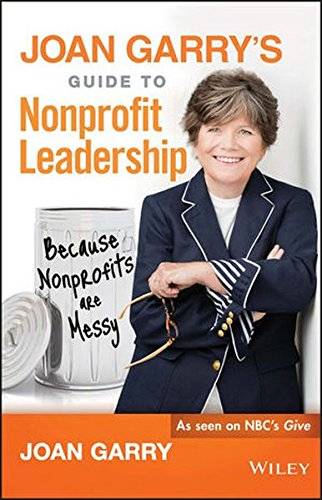 Nonprofit leadership is messy
Nonprofits leaders are optimistic by nature. They believe with time, energy, smarts, strategy and sheer will, they can change the world. But as staff or board leader, you know nonprofits present unique challenges. Too many cooks, not enough money, an abundance of passion. It's enough to make you feel overwhelmed and alone. The people you help need you to be successful. But there are so many obstacles: a micromanaging board that doesn't understand its true role; insufficient fundraising and donors who make unreasonable demands; unclear and inconsistent messaging and marketing; a leader who's a star in her sector but a difficult boss…
And yet, many nonprofits do thrive. Joan Garry's Guide to Nonprofit Leadership will show you how to do just that. Funny, honest, intensely actionable, and based on her decades of experience, this is the book Joan Garry wishes she had when she led GLAAD out of a financial crisis in 1997. Joan will teach you how to:
Build a powerhouse board
Create an impressive and sustainable fundraising program
Become seen as a 'workplace of choice'
Be a compelling public face of your nonprofit
This book will renew your passion for your mission and organization, and help you make a bigger difference in the world.
PRAISE FOR JOAN GARRY'S GUIDE TO NONPROFIT LEADERSHIP
"When Joan Garry says messy, she really means messy! This book pulls no punches! It's a tell-all expose of the 501c-3 underbelly, a guide from the inside for anyone involved, or thinking of becoming involved, with a non-profit organization. What's a bigger surprise though, is the wit and heart and passion on every page, and the spirit of kindness that comes from someone truly passing on wisdom."
—ALAN CUMMING, Celebrity
"I have had the pleasure of working with the incomparable Joan Garry on NBC's GIVE, a show that highlights small non-for-profits doing big work. Joan Garry's Guide to Nonprofit Leadership, like Joan herself, uses irreverence and approachability to shake things up in the non-for-profit world. There is no voice in the world of philanthropy today, I would rather listen to than Joan."
—JENNA BUSH HAGER, NBC's Today/GIVE
"Joan's unique and engaging perspective is honed from years of working with non-profits, and that expertise comes through loud and clear in her new book. Her insights on how to harness the passion of thousands of committed leaders, staff, volunteers, and board members should be required reading for anyone tasked with—or considering—a leadership role in a non-profit today."
—JIM CLARK, President of the Boys and Girls Club of America
"Joan Garry is the Dear Abby of the nonprofit sector, dispensing practical and brilliant advice to nonprofits with her trademark humor. Her book is a must-read for every nonprofit executive (and their board members) who want to harness their super powers to change the world and become a high performing organization."
—BETH KANTER, Trainer and Author, The Happy Healthy Nonprofit: Strategies for Impact Without Burnout
Joan Garry's Guide to Nonprofit Leadership: Because the World Is Counting on You PDF
Author(s): Joan Garry
Year: 2020
ISBN: 9781119730491
ePUB