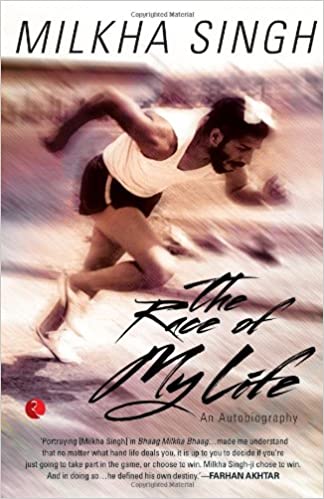 The Race of My Life By Milkha Singh
The Race of My Life: An Autobiography is the autobiography of Indian athlete Milkha Singh, coauthored with daughter Sonia Sanwalka. The film Bhaag Milkha Bhaag is based on it.
Milkha Singh has led a life dominated by running, running, running. From a boy who narrowly escaped death during Partition (Most of his family was not so lucky), to a juvenile delinquent who stole and outran the police, to a young Army recruit who ran his very first race to win special privileges for himself (A daily glass of milk). After that first race, Milkha Singh became an athlete by default and what followed was the stuff legends are made of. In this remarkably candid autobiography, Milkha Singh shares the amazing highs of winning India's first ever gold in athletics at the Commonwealth Games, the unbridled joy of being hailed as the 'Flying Sikh' in Pakistan, as well as the shattering low of failure at the Olympics. Simple yet ambitious, famous yet grounded, Milkha Singh was a man who defined his own destiny and remained committed to running and yet, remarkably for a man whose life was dominated by sports, he continues to remain disillusioned with the way sports is run. Powerful and gripping, the Race of My Life documents the journey of an impoverished refugee who rose to become one of the most towering figures in Indian sports.