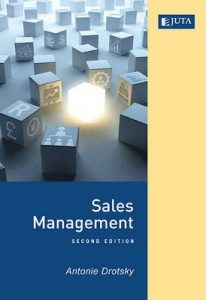 Sales Management 2nd Edition Pdf by Antonie Drotsky
Sales drive the business world and the economy. However, sales in any business need to be managed to ensure that the business achieves its objectives. This is where the function of sales management comes into the business structure: it plays the key role of ensuring that salespeople succeed at selling. The profitability of the organisation depends on how successfully sales managers lead their sales force.
The sales manager is responsible for the strategic planning of the sales force, which includes the management of the selling process and organising the sales activities within the sales department.
Contents Include:
Chapter 1 Sales Careers and the Selling Process
Chapter 2 Organising the sales effort
Chapter 3 Sales forecasting and budgeting
Chapter 4 Territory and time management
Chapter 5 Recruitment and selection of salespersons
Chapter 6 Sales training
Chapter 7 Leadership
Chapter 8 Sales motivation
Chapter 9 Sales force remuneration – commission, base salaries, bonuses
Chapter 10 Evaluating sales force performance
Chapter 11 Sales promotions
Chapter 12 Sales metrics
Of Interest and Benefit to:
The contributors to this book have both academic and industry perspectives on the field of sales management. This book will therefore benefit industry and academia. It will be a valuable resource for sales managers who want to improve their knowledge, salespeople who want to advance their careers and students studying marketing and sales.